Digital X 2022
ITENOS was once again partner of the world exhibition of digitalization.
After last year's hugely successful event, ITENOS is back as a DIGITAL X partner. "The Next Generation of Cloud Connectivity" is our theme this year, and we will be showcasing exciting new concepts and approaches to cloud security – not to mention current Cloud Connect solutions – all in the heart of Cologne. On September 13 and 14, 2022, our experts will be on site at our location in "Atelier Fine Drinks" (Aachener Strasse 15 in the DISRUPTION QUARTER) to discuss all things cloud in a relaxed and informal setting.
"Hot meets cold" in the cloud
Aside from exciting, professional discussions, visitors to the ITENOS location can also look forward to genuine culinary delights. In addition to our legendary Selfie Coffee, you can also treat yourself to a cloud-shaped ITENOS ice cream and a refreshing signature drink specially made for this mega event—perfect for staying cool in the summer heat.
But the fun doesn't stop there: visitors can also have their portrait created by a digital caricaturist or custom screen protectors made for their smartphones. And why not enter the raffle for a chance to win a skydive?
Cologne city center welcomes the world
Following the resounding success of last year's event, downtown Cologne will once again be transformed into a world exhibition of digitalization for a full 48 hours this September. DIGITAL X 2022 boasts more than 300 partners with countless stages and locations for you to discover the very latest trends and topics in digitalization and make new contacts.
Let's shape tomorrow together!
From site networking to multi-cloud environments
Companies need to be flexible enough to react to different demands whilst keeping cost pressures in check. No mean feat, but there's a solution: An integrated IT architecture that's both efficient and highly scalable in all areas.
That's exactly where ITENOS comes in: We provide modular ICT solutions that you can combine to create an individual package of solutions, plus a full range of first-class services tailored to clients and independent of manufacturers— from networking company locations, branches, and home offices using  ITENOS SD-WAN to the Cloud Gateway, our Cloud Services Managed Private & Public Cloud, IT-Security solutions Managed Next-Gen Firewall, Managed Web Security, and Managed Mail Security as well as a solid IT backbone with seven certified German data centers, all the way to high-performance connections to the big cloud providers.
Your data highway to the cloud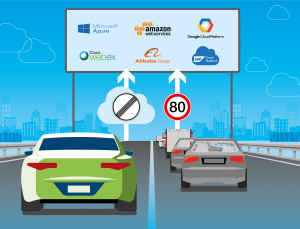 Sounds familiar? You want to transfer data with a partner or hyperscaler in your country/abroad, but various latencies are causing lag and/or serious restrictions. That's why a fast, secure, and reliable internet connection has never been more important!
So don't get left behind. Premium Internet Cloud Connect puts you in the internet's fast lane—the Cloud:
Guaranteed latencies/SLAs
Secure connection to the big hyperscalers globally — at any location
Resilient, scalable, and flexible